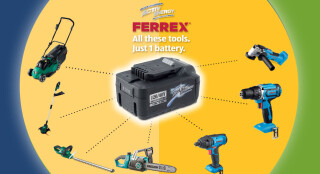 All these cordless power tools. One interchangeable battery!
Enjoy the simple way to cut the cost of cordless power tools with our new interchangeable battery system! From lawn mower to angle grinder, one battery and one charger is all you need! Simply charge your battery and slot it into your chosen tool. You should only need to buy the battery and charger once, so you can keep adding tools to your selection without having to pay extra hidden costs for the power system!
Battery and Charger
We have a great selection of quality cordless garden and DIY tools that all run on interchangeable batteries. So, with 1 Charger and either a 20V or a 20/40V Battery, you can run any number of the appropriate voltage tools without buying extra batteries.
Powerful value on cordless tools
We've a great selection of garden and DIY tools at amazing value for money prices, so you can make the most of your garden and tackle those DIY jobs like a pro.
Telescopic Trimmer
Even high bushes and hedges can be trimmed easily with this 2.92m extending cordless trimmer with a maximum 425mm cutting length from its laser-cut blades. It also has 10-position adjustment head and comes with shoulder strap and additional handles.
Blower & Shredder
Make light work of leaves and keep your garden tidy with this powerful cordless leaf blower and shredder, with its 45-litre collection bag, variable speed control, adjustable handle and guide wheels and comfy shoulder strap.