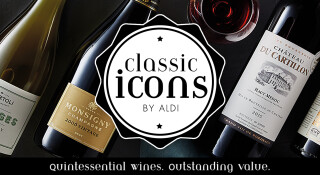 Aldi's Premium Collection.
Sometimes we come across a bottle of wine that needs to be savoured. A bottle of wine that we can really get excited about. That's what Aldi's Classic Icons wine range is all about. This new, premium wine range showcases wines from all over the world - from Old World French classics to New World New Zealand whites, including some online exclusives and all at outstanding value.
Veuve Monsigny Champagne 2006
Made from 100% Chardonnay – this is a Blanc de Blancs Champagne and as such is refined, restrained and refreshing, with notes of apple and lemon and a suggestion of shortbread on the finish. A real treat. Pairs with an antipasti board, enjoy!
Mix and match.
Create your own case containing your favourite wines and spirits. Simply select 6 or more wines or spirits and we'll deliver straight to your door – for free.